Awning Sale, Installation and Renovation
Are you looking to buy, install or renovate an awning in the Saint-Michel area? You can trust BALCON ROYAL INC. with the work.
High-quality awnings
An awning is a little roof that extends over a doorway or window, providing protection from the elements. Awnings are available in all sorts of different materials.
From canvas and wood to iron, BALCON ROYAL INC. can customize your awning, building a structure that will meet your needs. We can recommend different products and styles and guide you through selecting what is best for your individual project.
Long-lasting, durable craftsmanship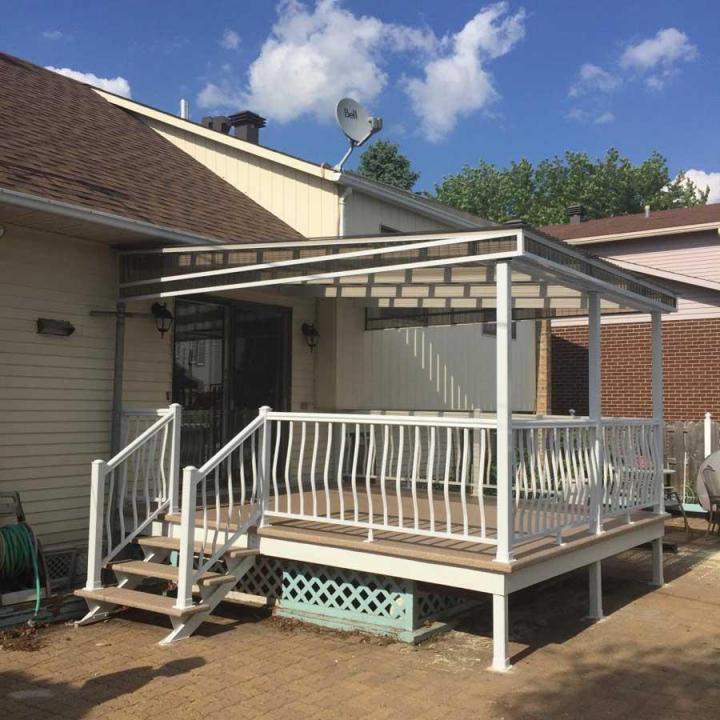 Our Services
Sale, installation and renovation of balconies, railings, awnings, indoor and outdoor staircases, decorative fencing, etc.
Our Strengths
Quality Products
Personalized Service
Professionalism
Extensive Experience
A Wide Variety of Colours
Serving...
Montréal, Saint-Léonard, Saint-Michel, etc.
Your awning specialists in the Saint-Michel area
BALCON ROYAL INC. is renowned for its quality workmanship and customer service. Whether your project involves building, installing or repairing an awning, we guarantee your satisfaction.
The professionals at BALCON ROYAL INC. are not only qualified and experienced, but also available throughout your project to answer questions and attend to any concerns. We can work indoors and outdoors on staircases, railings and all sorts of other enclosures.
Custom-built awnings, available in a wide variety of colours and materials